Predictions 2020: What Does the Future Have in Store for Salesforce?
February 4, 2020

Jaya Ghosh
One of the most crucial aspects of managing a business is creating and maintaining strong customer relationships. To remain relevant, businesses require figuring out ways through which they can consistently fulfill the evolving customer requirement in a hassle-free and streamlined way. An extremely effective way of forging strong relationships with customers is by implementing a robust CRM (Customer relationship management) system that can help organizations take customer satisfaction to the next level.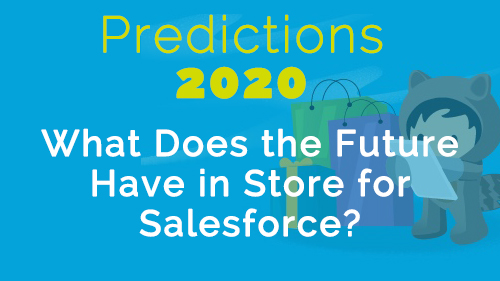 As leaders in the CRM space, Salesforce has created ripples in the world of marketing and sales. In fact, with its suite of features and applications, this innovative platform is beginning to find widespread adoption across different industry verticals. As organizations across the globe are searching for new methods to make the most of this innovative CRM, let's take a sneak peek into the technological upgradations that are expected to happen in 2020, which in turn can enhance the experience of the users.
Make the CRM more technology-oriented: Salesforce made quite a few acquisitions in the year 2019, most of which have become highly profitable. Through these acquisitions, Salesforce intends to bring technological upgradations to its future CRM. These upgradations may include orchestrating enterprise data in the cloud, integration of location-based software, AI-powered communication tools, enhancing field service offering in-service cloud and more.
Lightning Platform will come to the fore: Salesforce aims to enhance its Lightning platform (not the classic platform) by introducing several user-friendly features for making it more useful and productive for its users in the year 2020. So, it can be assumed that users leveraging the Classic platform will migrate to the lightning platform. Users looking to make a smooth transition to the Lightning platform can get in touch with a reputed Salesforce consulting company.
Einstein Analytics will be Used for Scaling up AI: Just the way Salesforce introduced powerful features of Einstein Analytics to its cloud service offerings such as financial service cloud, commerce cloud, service cloud, etc. in 2019, there are high chances that Salesforce might introduce Einstein AI to many other cloud service offerings in 2020 as well.
Mobile capabilities will be Broadened: Prioritizing the mobility needs of sales reps is extremely important in today's competitive business landscape. With the growing need for security, speed, and reliability of customer and enterprise-grade mobile experiences, it becomes important to adapt to the ever-evolving mobility environment. While Salesforce has introduced mobile SDK, which has not just flouted technical barriers but has also broadened its mobile capabilities. In 2020, the market leader is expected to take more steps to expand its mobile capabilities and take it to a new level.
New Industry Verticals to Join the CRM Bandwagon: With every passing year, Salesforce is witnessing more and more adoption by businesses across different industry verticals. This undoubtedly has increased the demand for its services. In the year 2020, Salesforce is more likely to expand its' adoption to several other verticals including the retail and manufacturing industry. As evidence of industry-specific verticalization, Salesforce has presented Consumer Goods and Manufacturing Cloud as its CRM cloud solution.
The Emergence of Unified Customer Profile: The significance of data in offering superior services to customers cannot be denied. Consequently, a large number of organizations are switching to customer 360 primarily for gathering data from different units of the organization including Sales and marketing. This data can be leveraged to draw meaningful and actionable insights regarding sales forecasts, charting out the marketing plan, resolving customer service issues, etc. With Salesforce making significant investments in customer 360 and Mulesoft, it wouldn't be wrong to assume that the year 2020 will witness the advent of a unified customer profile.
Conclusion:
As a cloud-based system, Salesforce continues to reign the CRM space. With an array of features, functionalities and applications in its arsenal, Salesforce has found widespread adoption among businesses across different industry verticals. Let's hope that the year ahead lives up to all the predictions made for and by Salesforce allowing it to grow further and reach new heights of success.
Girikon – a Salesforce silver consulting partner offers reliable Salesforce consulting, Salesforce support and Salesforce implementation services to businesses across the globe. As a reputed Salesforce consulting company, Girikon offers robust solutions that can transform the way organizations conduct their business.
About Author
Jaya Ghosh
Jaya is a content marketing professional with more than 10 years of experience into technical writing, creative content writing and digital content development. Her decade long experience lends her the ability to create content for multiple channels and across different technology verticals.
Share this post on: