Pardot VS Marketing Cloud: Which can be the Game Changer for Your Business?
January 28, 2020

Jaya Ghosh
In today's digital era, businesses should constantly lookout for new ways to grow their sales and revenue. One such potential-bearing option which modern-day and forward-thinking organizations must investigate is 'Marketing automation'. Marketing automation – an umbrella term for a platform, tool or solution can be leveraged by organizations to automate, and streamline their marketing activities and workflows. With a marketing automation software in place, organizations can enjoy increased operational efficiency, which ultimately translates to greater ROI. In fact, the benefits of using marketing automation software are humongous.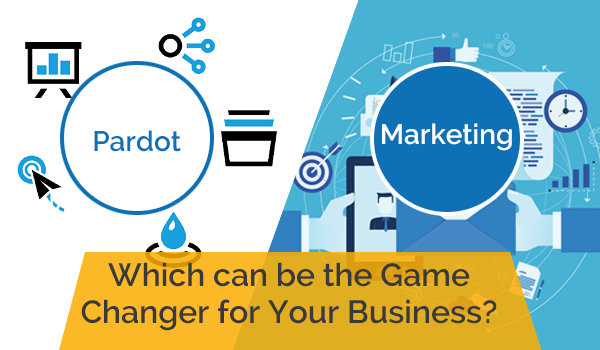 According to a research report shared by Frost & Sullivan's, revenue generated from global marketing automation software stands at $550.7 million and is projected to reach $1.9 billion by 2020
So, which is the ideal platform that businesses could use for automating and streamlining their marketing activities? Since, every platform has its share of strengths and weaknesses, businesses must consider their specific needs before zeroing in upon the right platform. While both Salesforce Pardot and Marketing cloud are two leading and powerful marketing platforms that can power up your marketing efforts, each one of them serves different purposes. However, you will have to evaluate each one of them before making a choice. Let's dig in a bit deeper to figure out the differences between the two depending on the following parameters:
Users: While Pardot is positioned for B2B organizations, Marketing cloud is designed for B2C use cases. Since, Pardot caters to the b2b segment, it primarily revolves around lead management as a result of a longer sales cycle. Consequently, Pardot users focus on preparing email campaigns with an objective of lead nurturing. To support lead nurturing, Pardot offers a set of lead grading and scoring tools, which allows users to allot scores basis the actions of customers and their engagement with the emails, website, etc. The features of the Salesforce marketing cloud allow users to offer a completely personalized experience to every customer. From creating roadmaps of the customer journey, planning campaigns and promotion to data management and cross-channel messaging, SFMC with its array of features offers support to different marketing segments. Though the Salesforce marketing cloud has a more powerful and comprehensive marketing suite than its counterpart, it misses out on the sales-and-marketing alignment part i.e. lead scoring. However, it is possible to integrate lead scoring in the Salesforce marketing cloud.
Channels: Since, Pardot caters to the B2B space, users can expect complete support when it comes to channels such as emails, website, and social media. However, cross-channel options are limited in Pardot. The SFMC platform supports various channel engagements as it has in its arsenal several tools that help users to provide support to its customer via every channel including web, SMS, advertising, social media, and email. Each of them can be managed via separate applications on the platform.
Integration: It's important to know that to leverage the full potential of Pardot and SFMC, a database is required. Though Pardot is commonly integrated with Salesforce's Service or Cloud (CRM), it also integrates well with Microsoft Dynamics CRM, Sugar CRM, and NetSuite. Offering a full marketing suite, Salesforce Marketing Cloud can be integrated with Salesforce solutions such as Sales, service or Community Cloud besides other CRM systems. Though, the platform doesn't offer a database as a part of the package, a Data Management Platform (DMP) can be integrated into your Marketing Cloud by paying some extra cost.
Price: Since, Pardot and Salesforce marketing cloud serves two different models i.e. (B2B and B2C), they have different pricing structures. For Pardot, the pricing is available online and is segregated in three different categories i.e. basic, intermediate and advanced, basis the automation features one wishes to access. However, there are no standard pricing options available online for the Salesforce marketing cloud. Though the cost will certainly be more than Pardot, it's more likely calculated basis the volume of data as B2C companies deal with daily customer interactions and transactions. The pricing for the Salesforce Marketing Cloud also takes into account the cost of implementation and the number of users using the platform.
Which is the Best Fit for Your Business?
After understanding the differences between the two most sophisticated marketing platforms, it's easy to infer that the best platform for your business depends completely on the kind of business you are into. So, while Marketing Cloud makes for the best choice for customer-facing businesses (B2C) as it offers a platform to engage with customers across multiple channels, Pardot is an ideal platform for organizations that require their sales process to be nurtured by bridging the gap between their sales and marketing teams. If you are still confused about the best fit for your company, then make sure you get in touch with a reliable Salesforce consultant.   
Girikon – A reputed name in the IT space offers end-to-end Salesforce consulting services for businesses looking for reliable Salesforce implementation and consultation.
About Author
Jaya Ghosh
Jaya is a content marketing professional with more than 10 years of experience into technical writing, creative content writing and digital content development. Her decade long experience lends her the ability to create content for multiple channels and across different technology verticals.
Share this post on: