How has Einstein Analytics Powered Financial Cloud Services Alleviated the Pain Points of Fintech Companies?
February 4, 2020

Jaya Ghosh
In today's competitive business landscape, banks and other financial service companies have to deal with rapidly evolving customer requirements. Today, with new entrants and consumer technologies simplifying the way people save and invest their money, the demand for the digitalized financial transaction along with high-touch and personalized experiences have increased manifold. To remain competitive, bankers and wealth managers require delivering smart and tailored experiences, which is significant for building best-in-class customer relationships.
While these customer-facing organizations have always understood the importance of providing superior customer service, they struggle to manually sew up and make sense of customer data from disparate sources. This calls the need to have in place a robust and intelligent system that can help organizations meet the growing expectations of customers for speed and personalization. Salesforce Financial Services Cloud – a financial software used for wealth management could be leveraged by organizations for enjoying a customized CRM experience.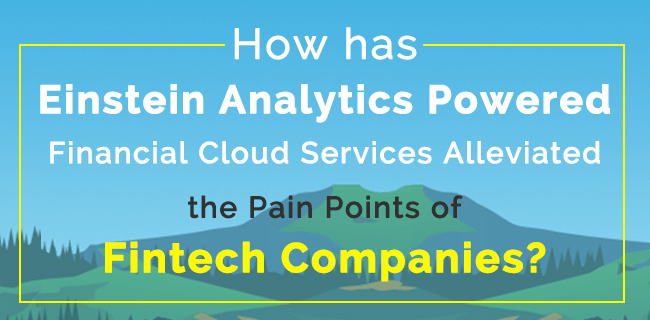 Now, with the addition of Einstein Analytics to the financial service cloud, bankers and wealth managers have access to AI-powered insights that have helped them strengthen client relationships and grow their business.
Let's take a quick at the amazing features that Einstein Analytics powered financial services cloud offers:
Actionable Insights Enabled by AI: With this, financial services professionals can get predictive guidance which is built-into routine client engagement. For instance, financial consultants can now receive updates about clients who are likely to grow their assets. This helps them to focus their attention on retaining such clients that too in a smart way.
In-built Industry Dashboards: These are built-in to help with data collection regarding the financial activities of clients. The pre-built templates help wealth advisors and retail bankers to gather quick insights using analytics rather than depending on a data scientist to share daily insights around common KPI's. Now, retail bankers and wealth consultants can draw insights by directly accessing the dashboards, which in turn helps them in identifying opportunities, as well as threats.
Customizable Platform: To get a complete view of the financial goals and needs of their customers, users have the option to build custom apps and connect them to data from external sources.
Built-in Compliance: With an Einstein analytics powered financial services platform in place, users can expect data to be hosted in a secure, trusted and compliant cloud-based platform. This comprises of privacy, security, and other tools that are configured to fulfill compliance requirements.
How Does Einstein Powered Financial Cloud Services Help Fintech Companies?
Get Rid of Loopholes of Legacy Systems: Financial services organizations often face challenges fulfilling the expectations of their customers using their legacy systems that are outdated and inefficient. With all the useful features and customizations, the Salesforce financial cloud lends organizations the power to connect all the internal systems and push all the vital data to a single place i.e. the dashboard.
Better Engagement with Customers: To fulfill the growing requirement of their clients, financial service organizations require having a clear and comprehensive picture of their accounts, financial goals, etc. This becomes possible with Einstein powered Salesforce Financial service cloud, which besides fetching crucial client data from different systems and gathering in a single place i.e. the dashboard offers real-time recommendations. With a clear view of their customers, financial services organizations are better positioned to fulfill the expectations of their customers.
Better Compliance: The financial service industry deals with the constant pressure of being compliant. Packed with compliance features, the Salesforce financial services cloud paves way for hassle-free client communication, transparent collaboration, and simple to build internal processes. All this helps in saving a lot of precious time.
Quick Wrap Up:
The introduction of new capabilities i.e. Einstein Analytics into its financial services cloud has taken its performance a notch higher. With such updated features, wealth managers and bankers can leverage predictive analytics to remain more strategic about how they manage their book of business, as well as client relationships. So if you are a financial service organization looking to create a long-lasting professional relationship with your clients, it's important that you partner with a Salesforce consulting company to avail robust CRM functions.
Girikon – a Salesforce silver consulting partner offers reliable Salesforce consulting, Salesforce support and Salesforce implementation services to businesses across the globe. As a reputed Salesforce consulting company, Girikon offers robust solutions that can transform the way organizations conduct their business.
About Author
Jaya Ghosh
Jaya is a content marketing professional with more than 10 years of experience into technical writing, creative content writing and digital content development. Her decade long experience lends her the ability to create content for multiple channels and across different technology verticals.
Share this post on: