5 Significant Salesforce Summer 20 Release Features Organizations Can Benefit From
Every year Salesforce makes three new releases at regular intervals i.e. the summer, winter, and spring. This year, Salesforce summer release which was scheduled to be released in the month of May 2020 got delayed due to the on-going COVID-19 pandemic and has now been released in June. In this article, we will take a look at some of the standard new features offered by the new release. To know more about the releases, it's prudent to partner with a reliable Salesforce consultant.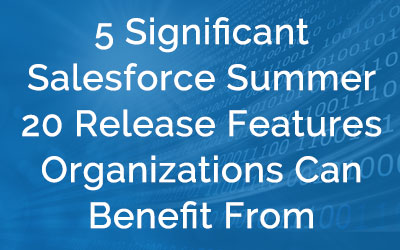 Trigger a Flow for Performing Actions: Every time a record is created or updated, the trigger of a Flow that can perform actions for e.g. sending an email after the changes are made to the database. The record-changed flows can be used to make before-save updates and after-save actions. You can replace processes and also make changes in the processes that were created in the process builder
Run Flows that Evade User Permission: This feature allows guest users to produce or edit records that they don't have access to by fixing your flow to run without sharing. Within such a setting, the flows running ignore the field and object-level security, default settings, rule sharing, teams, manual sharing, and territories.
Properly Manage Community Pages: With an improved community page Menu, navigating to and editing your pages becomes easier. To see the folder where a page resides, it's important to search for that page and select it from the search results.
Work Item Status for Determining Agent Capacity: This feature helps in determining agent capacity more accurately basis the status of work accepted rather than earlier methods of using open tabs. The tasks allocated to agents continue to remain assigned and reflected even when they are unavailable until the time the task is reassigned or completed.
Debug faster and more Flows: The need for manually reverting changes made to the database when you debug an auto-launched flow is now no longer required. You can save yourself the trouble by using the rollback mode in Flow Builder. The debug option in Flow Builder can be used as it includes the Lookup screen component allowing you to set record variables easily.
Conclusion:
These are a few of the many Summer 20 release features. If you too are looking to implement any of the summer '20 Release features, you must consider partnering with a Salesforce implementation partner with extensive knowledge, in-depth experience, and proven results in achieving customer success.
About Author
Jaya is a content marketing professional with more than 10 years of experience into technical writing, creative content writing and digital content development. Her decade long experience lends her the ability to create content for multiple channels and across different technology verticals.
Share this post on: