Salesforce Einstein: Selling Made Easy
For almost 2 decades Salesforce users were using pre-built reports and dashboards to have a quick look at their data. But with time, data has increased exponentially and it has become quite difficult to manually look for the required data. Due to this very reason, Salesforce has launched Einstein Analytics, a platform that solves the challenge of gathering the required data at one place to answer key queries related to organization sales.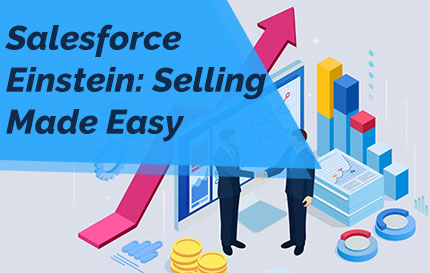 What is Salesforce Einstein?
Salesforce Einstein is Artificial Intelligence integrated into the Salesforce Platform which allows organizations to automate the reports, identify the needs within the workflows, and even the effectiveness of each sales team within the organization. It has transformed the way organizations used to analyze their data. Organizations can now track their KPI's, annual reports, sales pipeline, etc. seamlessly by eliminating the dependence on mathematical models and algorithms.
Salesforce Einstein's artificial intelligence stage takes sales/revenue forecasting to the next level by providing new useful real-time insights depending on the real-time data coming in the system. It progressively adjusts itself to modifications and new information. It assures if there is any unexpected change in the market then it can rapidly change its forecast and predict according to the new requirements.
Salesforce Einstein AI Impact on Business

Sales
Salesforce Einstein offers various features to provide a better insight into the sales. It has features like Activity Capture which automatically captures the data from various sources like emails, call logs and, salesforce chats and saves sales reps time from manual data entry. It even recommends good quality leads and opportunities to sales reps who can nurture them.
Marketing
For the marketing folks. it is a clear winner as it helps them with forecasting customer engagement, tracking social media engagement, launching email campaigns, etc. It even helps in transforming the organization image by suggesting suitable content.
Customer Experience
Salesforce Einstein has capabilities of enhancing customer experience by automatically extracting customer's information and providing real-time insights about the customer like their pain points, requirements, etc. By having all the necessary information sales reps can nurture customers in the right direction.
Commerce
AI powered Salesforce Einstein guides organizations to sell the right products, provide special offers to customers at the right price and at the right time. This even helps organizations in selling and upselling services and products to the customers by tracking their previous purchase history.
Key Features of Salesforce Einstein
Voice Commands
This feature enables you to perform various functions with a voice command. It does not just listen it even answers back in the same way. You can set-up meetings, get news updates of prospects, view dashboards, etc. by using the voice commands.


Natural Language Processing (NLP)
This feature enables Salesforce to understand what the users are trying to say in their emails and messages. It spots the keywords present in customer's/prospects messages and suggests response accordingly. This reduces the time of reply, and customers/prospects will be addressed quickly.
Action Oriented
It automatically takes actions on things that sales reps might not have asked for like scheduling a follow-up call or a follow-up meeting with the customers. It self-analyses the meeting notes and takes appropriate actions that save a lot of sales reps time.


Scoring
With Einstein Lead and Opportunity scoring, it looks into the insights of leads and opportunity, and based on the available information it scores the leads and opportunities. By looking at the score, sales reps can pick up those leads with a higher score to nurture first.
Salesforce Einstein AI Benefits for Organizations
Sales Pipeline Management
One of the most important and useful advantages of Salesforce Einstein AI is its ability to keep on modifying/updating the pipeline on a real-time basis. It helps in evaluating trends in opportunities and provides a list of opportunities that can be closed with ease and those which require attention. By using it, organizations can focus on the right opportunities.
Account Insights
With Einstein Account tool, organizations can get the latest news related to financial results, mergers, and acquisitions, etc. for their prospects and customers. These insights can be leveraged by the sales teams and marketing teams to run personalized marketing messages and special offers for every prospect.
This tool even captures information like the impact of the marketing campaign, clicks that come through campaigns, etc. The effectiveness of the campaign can be visualized on a dashboard where the organization sees the success rate of marketing and sales generated through it.

Performance Analysis
Organizations can use Salesforce Einstein to monitor the opportunities in the sales pipeline and the sales teams monitoring them. They can further compare the performance of every individual present in the sales teams over different parameters.
Leader View Dashboard presents a top-notch view of sales rep performance over time. After analyzing the performance of every individual at various parameters organization and reward their top performers.


Whitespace Analysis
Whitespace analysis is the process of uncovering new opportunities. With the assistance of Salesforce Einstein, organizations can execute whitespace analysis and look out for new opportunities. Salesforce Einstein has the potential to recognize which product or service has been sold to which accounts and it further creates feasible opportunities depending on the account's previous/current requirements.
Conclusion
Artificial Intelligence has an undeniable influence on all walks of life. In today's world, an AI based platform, such as Salesforce Einstein, provides the best scenarios and retrospective to make the experience of selling process human-like which helps an organization in increasing sales and automate the process and prepare for the future market needs.
About Girikon
Girikon has become a reputed name in the IT services, as well as consulting space. Being one of the reputed providers of SaaS technologies like Salesforce, the company offers high-end
Salesforce consulting
and Salesforce implementation services.
About Author
Shrey Malik is associated with Girikon as a Senior Business Analyst. He has rich experience in Salesforce Implementation, Salesforce Integration, Data Migration, Oracle SQL, Data Analysis, PowerBI, Sales Analysis etc. He loves exploring new technologies and blogging around them in his leisure time.
Share this post on: