Why Should Insurance Organizations Consider Leveraging Salesforce?
August 10, 2020

Jaya Ghosh
The global insurance sector is undergoing a dynamic change due to digital transformation. This digital disruption has forced insurance providers to either make significant changes to their business models or face the risk of being ruined. However, insurers, especially traditional insurers may find themselves at a competitive disadvantage owing to their age-old business models, as well as hefty investments made in infrastructure. In fact any change to their business model might be extremely difficult for some insurers as it may cannibalize their existing business.
To create efficiencies leading to higher profitability or a competitive position, insurers are leveraging innovative technology solutions that too without making significant changes to their business models. Insurance regulators are indeed viewing technology as an enabling solution that can help them better realize their mission of warranting a competitive and sustainable insurance market. Today, insurance providers are doing away with traditional customer servicing methods and are opting for robust insurance CRM software that has helped them manage everything from a single place.
Let's take a quick look as to how a robust CRM like Salesforce drives positive growth for businesses that are a part of the insurance sector:
Personalized Services: CRM software provides users a great way of increasing the understanding of existing and potential customers. This enables them to provide personalized services according to the unique requirement of every client. Financial service cloud by Salesforce paves way for marketing automation, which enables brokers to nurture leads and then turning them into customers while connecting with customers at the right time, and with the right product advice. Salesforce CRM software for insurance also helps in delivering personalized services to the policyholders. To implement Salesforce insurance CRM software within their business ecosystem, insurance organizations should consider partnering with an experienced Salesforce Implementation Partner.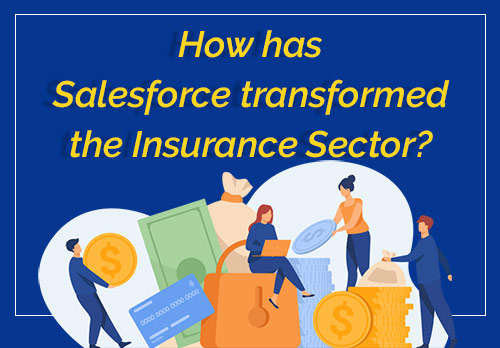 Improve Customer Loyalty: Offering superior customer service is a key way of improving customer loyalty. Insurance companies that have implemented robust cloud-based CRM get access to meaningful insights that are required for providing personalized sales, claims, and service-related interactions for a huge client base. Moreover, a cloud-powered solution can be integrated with different departments such as sales, marketing, etc., which allows staff and clients to connect irrespective of their location thereby paving way for a more integrated environment.
Secure Repeat Business: A robust CRM can be leveraged to utilize multiple aspects of a business. This presents a cost-effective way of bringing people together, breaking data silos, providing a single view of customers. This allows insurance teams or brokers to sell (up-sell and cross-sell) more while making repeat sales to existing customers by keeping the need of each customer at the center of communication regarding sales, marketing, and support.
Wrap Up:
Salesforce CRM software for insurance provides insurance companies an opportunity to support their customers in a way that extends their journey with the organization rather than providing momentary service and support. With competition within the industry becoming fiercer, Salesforce CRM for the insurance sector can make organizations stand out of the crowd. Organizations looking forward to enhancing business efficiency and ROI by implementing Salesforce insurance CRM should should seek assistance from a reliable and certified Salesforce consultant.
About Author
Jaya is a content marketing professional with more than 10 years of experience into technical writing, creative content writing and digital content development. Her decade long experience lends her the ability to create content for multiple channels and across different technology verticals.
Share this post on: