Salesforce Education Cloud: Ensuring Seamless Journey for Higher Education Institutes and Students Alike
Technology has made its way into every aspect of our lives and the higher education sector isn't any different. Today higher education institutes irrespective of their sizes and affiliations are striving to provide superior student experience by empowering them to become forerunners of the future. While higher education institutes are utilizing innovative technology solutions to fulfill the long-lasting commitment made to every single student, yet most of these solutions leveraged by the institutes manage to partially fulfill the commitments made.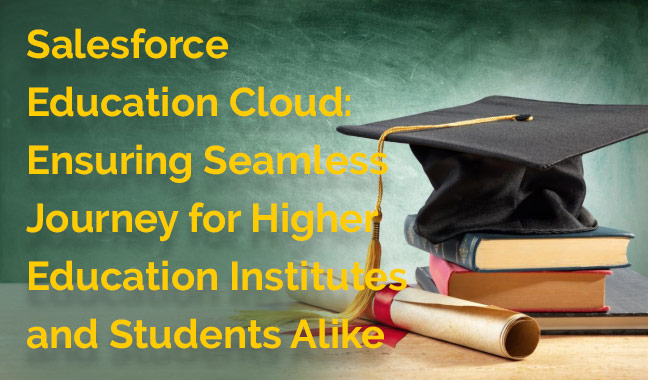 This is because the solutions utilized by these establishments are greatly siloed and thus fail to create a single perspective of the entire student journey right from admissions to student accomplishment and progression. Apart from this, increased student expectation for a more personalized and connected experience has put immense pressure on higher education institutes to provide students with a positive experience. This is where the Salesforce education cloud comes to picture.
As a cloud-based solution, the Salesforce education cloud empowers institutions to deal with most pressing challenges across their campus while drive student success across the entire life cycle i.e. from prospect to alumni. With a wide array of features, the education cloud by Salesforce has become the number one CRM for providers of higher education. Here's what makes this platform a go-to choice CRM for higher education institutes:
Hassle-free Admission Process: This cloud solution helps institutions connect with prospective students who are seriously looking for a well-suited university and course. Institutions build brand awareness and campaigns to attract students besides leveraging the data of various applicants by maintaining a database at a single location. This not just provides a holistic view of the prospective students but also acts as a platform to provide personalized services to the students.
Convenient Student Experience: The CRM enables institutions to address specific challenges faced by students' w.r.t to educational decisions while providing seamless service to enhance standard success. Apart from this, institutions have the option to communicate with the students via their preferred mode of communication. Finally, institutions can provide their students with access to lucrative career opportunities through the regular job posting, handling career fairs while staying connected with the alumni network.
Data Architecture: The education data architecture (EDA), which lays at the very foundation of the Salesforce education cloud enables the usage of standard objects that can be used to manage student relationships, co-curricular and more. The EDA can be customized as per the specific requirement of the institution, which further is made simpler by eliminating the need for coding. In fact, modules, custom fields, and objects, etc. can be created using a drag and drop functionality. Apart from this, EDA also updates itself on a weekly and biweekly basis and can be tailored as per the specific needs of the users through the App Exchange. It is also supported by a diverse community known as the Trailblazer community, where users collaborate and share their ideas.
Advisory Services: One of the significant benefits of using the Salesforce Education cloud is the provision of SAL (Salesforce Advisor Link) solution, which allows students to seek advice on career-related queries. Students can set up appointments with the advisors via mobile application as these appointments integrate easily with the advisors' calendar. The CRM also integrates office management software that manages appointments and walk-ins.
Quick Wrap-up:
As an innovative platform, the Salesforce Education Cloud is equally beneficial to the institutions, students, and alumni alike. Together with a robust and useful education data architecture (EDA) and advisory link, this powerful platform stands tall among all other available education CRM system. If you are keen on implementing this cloud solution, it's in your best interest to engage the services of a reliable Salesforce implementation partner .
About Author
Jaya is a content marketing professional with more than 10 years of experience into technical writing, creative content writing and digital content development. Her decade long experience lends her the ability to create content for multiple channels and across different technology verticals.
Share this post on: