Smart SMS – Send SMS from Salesforce to your clients
October 25, 2018

Uditi Jain
Salesforce is very handy in terms of integrating it with different platforms. It has allowed various platforms to sync resulting in enhanced user experience.
This package is also an integrated package resulting in an outstanding outcome. This package utilises Twilio API to enable direct SMS from Salesforce as more than 50% prospects prefer SMS over emails.
This package is developed on the Salesforce platform, allowing scheduling of Single / Bulk SMS / MMS campaigns from Objects and Reports. It empowers organisations to reach out to more customers quicker with Salesforce via scheduling features that use workflows to send the customised customer-specific messages.
The features of this package include, ● Individual & Bulk SMS / MMS ● Customised email template ● Interactive Chat window ● SMS notification on email ● Schedule SMS / MMS on the weekly/monthly basis ● SMS from Reports ● SMS History ● SMS usage tracking ● SMS OptOut feature
The user can create customizable SMS templates with dynamic field values and interactive emojis that give users an individual touch and allows tracking of all the SMS sent to their customers that provides a consolidated repository of SMS activities.
The businesses can keep the record of SMS usage in a graphical arrangement determining Outgoing SMS, Incoming SMS, etc.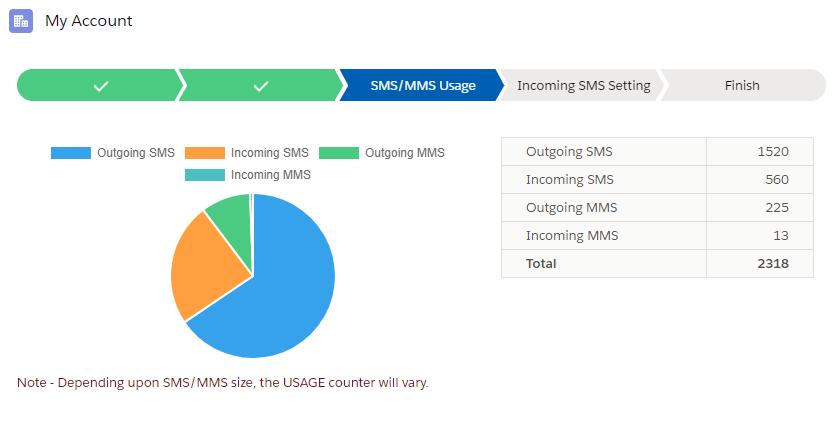 This package also allows the user to reply sitting away from their system, as it generates email once reply to SMS is received and the user can reply to SMS by replying to that email.
As per the figures, the users of this package have remarked a 200% increase in outreach to target customers using SMS/MMS. This package flexibility in usage through automated workflows enables up to 60% more adoption by Sales & Marketing teams.
With Smart SMS, business get the power to transform database records into customers! It centres more on short, crisp informative messages instead of long, descriptive emails and notes. The user can avail free 7 days trial with free 100 SMS credits to check its power.
About Author
Uditi Jain
Uditi contributes as Business Analyst for Salesforce services at Girikon. She started her career in analysis, directing first on business development and later moved to business analysis and project management. She has worked with other Salesforce consulting companies to drive sales success and manage post/pre-sales. When she's not geeking out on the work, she can be seen watching movies.
Share this post on: