Salesforce Commerce Cloud: From 100 to 1M
June 24, 2020

Shrey Malik
In today's digital era, online shopping has become the norm. In fact, the past few years have seen an exponential rise in the number of consumers opting for online shopping rather than shopping from brick and mortar outlets. This shift in consumer buying behavior can be attributed to the advancement in technology, as well as easy and secure payment methods.
As consumers are cognizing the benefits of digitization, the trend for E-commerce or online shopping has eventually caught pace. So much so that merchants who fail to mark an online business presence run the risk of either being left out or trail behind. While online platforms have proved to be beneficial for both customers, as well as marketers, marketers struggle to deal with challenges such as generating traffic, capturing potential leads, retaining existing customers and more.
What is Salesforce Commerce Cloud?
Salesforce Commerce Cloud is a part of the Salesforce CRM platform that helps marketers to provide a superior experience to their customers across all channels as it offers solutions for marketing, customer service, and more.
The Salesforce Einstein powered platform due to its AI capability has helped marketers sustain market competition by helping them understand the buying behavior, preferences, search pattern, and engaging experience across all channels.
Benefits of Salesforce Commerce Cloud
Predictive intelligence platform with in-built Salesforce Einstein does away the need for spending time and money on searching a compatible Analytics platform for your e-commerce platform. Some of the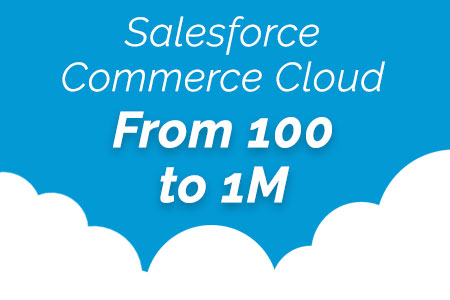 key benefits of having Salesforce Einstein integrated include the following:
It suggests the most relevant products to customers by decoding their search and search pattern.
For every user, it has a separate/unique suggestion based on their search patterns.
It helps in identifying upselling and reselling opportunities.
It provides data-driven real-time insights of each customer.
It helps at every stage in the sales process. It helps in boosting up the traffic by improving the page rank, faster SEO page optimization, build traffic with the help of its inbuilt mechanisms. It eventually helps organizations generate more revenue and save the extra bucks.
It has helped merchants manage their orders, inventory, marketing, sales, etc. all on the same platform.
Earlier merchants used to use separate tools to manage Orders, Inventory, Marketing, Sales, etc. Now, these can be managed on a single platform. This has helped merchants save money and increase revenue significantly.
These days most of the customers prefer to do shopping over mobiles and tablets rather than via computers and laptops, which allows them to shop while on the go. Salesforce Commerce Cloud is mobile-friendly, and it allows merchants and customers to buy, sell, and manage through their mobile phones.
With the help of Salesforce Commerce Cloud, merchants are able to do marketing like never before. They are not just able to pitch the right products to customers but they are able to pitch them at the right price and at the right time.
It even enables merchants to customize the search query for their products based on the customer intent search which will eventually make their product more visible. It even helps merchants manage sales campaigns, email marketing, etc. at the same place.
It provides 24/7 support to merchants and customers alike. It keeps on providing patches, new features, and security upgrades that make it more reliable and future-ready.
Conclusion
Considering the different aspects like marketing, inventory, campaigns, revenue, etc. it manages, it won't be wrong to say that it is one of the most impactful software's present out there for any business.
It does not just help merchants to identify the requirement of the customers but even help them identify the right audience for their different products. It even helps merchants to set future goals with the help of its predictive analytics. It is a one-stop solution for merchants to increase their reach from a few hundred people to millions of people all across the globe.
About Girikon
Girikon is a reputed provider of a wide array of
Salesforce consulting
, Salesforce implementation, and
Salesforce support
services. As a Salesforce silver consulting partner, Girikon strives to offer high-end services to its global clientele.
About Author
Shrey Malik is associated with Girikon as a Senior Business Analyst. He has rich experience in Salesforce Implementation, Salesforce Integration, Data Migration, Oracle SQL, Data Analysis, PowerBI, Sales Analysis etc. He loves exploring new technologies and blogging around them in his leisure time.
Share this post on: