Importance of Sales Analysis in Maximizing Sales
Sales Analysis Provides Logical Answers to your Question

For every organization, the sales function continues to be the most important function as it plays a significant role in building trust between a customer and a business entity. Organizations usually spend enormously in sales-related activities to gain edge over their competitors. However, sales related business decisions taken on others advice or by own "gut feeling" could be quite risky that too when a large amount of money is at stake.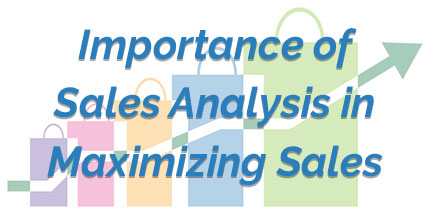 Sales Analysis is the process which is used to understand, identify and predict sales trend. It leverages the historic data to determine the failure/success of the previous sales drive and helps in identifying the area of improvement. With sales analysis organizations no longer need to take decisions based on their gut feelings as it provides logical answers to their sales-related queries.
Importance of Sales Analytics:
There are several benefits of incorporating Sales Analytics into the Sales function. Let's take a quick look at some of them.
Fill the gaps:
By Analyzing their available data, organizations can figure out where they may have missed out on the opportunity of converting a prospect to a customer. This will eventually help organizations fill the gaps in the sales process, as well as the gaps in their products.

Organizations should analyze their product and understand what their competitors are doing to remain competitive, what's not working for you and how can you fill in the gaps.
Increase Retention Rate:
If organizations can figure out why any deal got closed, then they can keep their customers happy and build a strong relationship with them. It is important to understand the need of the customers so that organizations can upsell and cross-sell other products to the existing customers, which significantly adds to the revenue.

In addition, by looking at the purchasing patterns of your existing customers you can recommend what customers can buy next, based on what these customers have bought in the past.
Accurate Sales Forecasting
One of the most obvious and important feature of Sales Analysis is the ability to predict the future sales based on the available data. Unlike setting up goals based on the "gut feeling", historic data gives you an accurate, realistic picture of how much your organization should be able to earn within a specified time period.
Competitor Sales Analysis
In industries like automobiles, sales made by all the organizations are made available on the public platforms. Organizations can use their competitor's data to see which product of their competitor is selling the most.

They can even get the answer to the question like where and why a particular competitor's product is selling the most. Based on their analysis they can revamp their product lineup, product pricing, introduce new product etc.
Future Decision Making
Organizations can even make future decisions like whether an organization need to introduce new products or discontinue any existing product. It even help organizations effectively manage inventory, marketing activities, sales offer roll-out time, manufacturing process etc.
More efficient Marketing
Sales Analysis helps organizations identify market opportunities and trends to support product marketing. If an organization is planning to launch a new product then it is very important to know the answer of below questions

When should the product be launched?
Q2. Where should the organization launch the product?
Q3. How should it be marketed?
Q4. Who is the target audience?

All the above questions can be answered by using sales analysis. By having answers to all the above question, organizations can launch their product at the right time and can target the right audience, which will help them have a good sales number.
Type of Analysis
Sales Analysis could be done in many different ways based on the available data with the organization. Common types of Sales Analysis performed are mentioned below:
Product-wise Analysis
Organizations can use product-wise analysis to identify which product is selling most and during which time of the year. For example, winter clothes are sold most between November – January whereas summer clothes are sold most between May – September. Based on this analysis, organization can manage the new product launch date, inventory etc.
Forecast vs Achievement analysis
With the help of Forecast Analysis, organizations can see whether they are able to meet their monthly/weekly/quarterly targets or not. They can even identify how much they should be looking for in the month/week/quarter. Based on their analysis they can make required changes in order to meet the desired organizational targets.
Periodic Analysis
Periodic sales analysis are the ones which help organizations compare two or more different time period sales. Organizations can analyze the data and see which decisions of the organization has helped them in boosting up the sales and which decisions have led to dip in sales.
Conclusion
To sum up, Sales Analysis is something which will help you identify the gaps not just in the organization's sales process but even in other areas as well, like gaps in product, release of the product etc. It even provides a logical solution to fill the gaps in order to increase the sales and reduce the losses.
It enables organizations to take decision based on the facts rather than on their "gut feeling". On being leveraged appropriately, Sales Analytics can help organizations deal with all the roadblocks, which they might encounter during their Sales journey.
About Girikon
As a global provider of end-to-end IT services, Girikon boasts of a team of certified, and experienced
Salesforce consultants
, administrators and developers who have the knack for catering to the customer requirement in the most efficient way.
About Author
Shrey Malik is associated with Girikon as a Senior Business Analyst. He has rich experience in Salesforce Implementation, Salesforce Integration, Data Migration, Oracle SQL, Data Analysis, PowerBI, Sales Analysis etc. He loves exploring new technologies and blogging around them in his leisure time.
Share this post on: