How Salesforce could be Helpful in Achieving Customer Success
April 29, 2020

Amit Srivastava
In today's competitive business landscape maintaining positive customer relationships while ensuring business growth has become a challenge. To cater to the needs of your customers in the best possible way, it's important to understand the behavior, preferences, and the pain points of your customers. This would help you drive 'customer success' and take it to the next level.
What is customer success?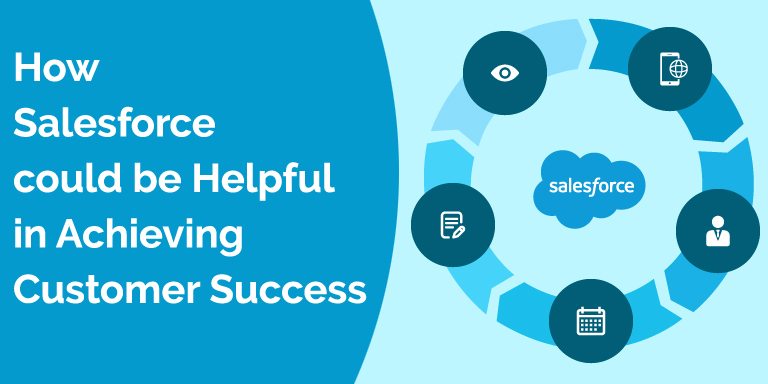 When customers achieve desired results or value post interactions with your organization then customer success is achieved. It is contrary to customer support, where you or your customer support team manages to merely resolve the issues, which customers might have come up with. Rather customer success is all about a proactive approach of reaching out to customers, anticipating problems even before they happen, and providing with an appropriate solution by stepping into their shoes.
A customer success manager forms a direct relationship with the customers provides them with value-added services. This helps customers to grow and achieve their goals while building a strong relationship with the business.
Why do we Need a CSM (Customer Success Manager)?
The role of a CSM within a business environment cannot be denied. They act as a bridge between the organization and the customers. Besides having in-depth knowledge of their customer's business, a good customer success manager should have excellent communication skills, which allows them to comprehend and communicate common customer behaviors to the sales, marketing, and product teams.
Another important quality, which a customer success manager should possess, is an in-depth understanding of your product. This would help them keep their customers updated about the product including their expiration dates, renewal dates, new product versions, and more. This is particularly important to retain your customers and earn their loyalty.
Within a business environment, a customer success manager should have know-how about their offerings and provide a solution that will satisfy customers and provide them with the desired outcome. However, delivering an impactful solution to your customers requires gaining insights from data gathered from multiple touchpoints.
How Salesforce can help?
Salesforce is a cloud-based CRM which can be leveraged to seek support in the following areas:
Gartner predicts that by 2020 over 80% of software vendors will change their business model from traditional license and maintenance to subscription-based services. Since Salesforce is cloud-based and 100% mobile compatible, you can access it anytime and from anywhere. With the help of dashboards, you can manage all of your subscriptions in real-time. Returning customers are always the most valuable assets for an organization and you as a customer success manager need to put forth your best foot to show them how much they mean to you. And since subscription-based business is the next big thing, Salesforce subscription management can turn out to be a deciding factor in Customer Success.
Community Cloud is a Salesforce platform that can be used for connecting with customers, partners and employees. We can easily communicate with internal users and portal users, and external users.Using Salesforce Communities, you can:
Drive more sales by connecting your employees with distributors and suppliers
Deliver a great service by giving the customers one place to get answers

Automated Proposal Generation
CPQ (Configure, Price, and Quote) software can help streamline the CPQ process so that sales reps can focus on other sales activities. They can automate the proposals and generate quotes so that they don't have to do it manually all the time, which can save time and they can concentrate ontheir customers easily. CPQ produces accurate and highly configured sales quotes for customers, which allows them to not only sell more, but sell faster as it speeds up and automates the sales cycle.
Contract Management & Renewals
Opportunity object (with a customer "Renewal" record type) can be used to track renewals. With this, you can leverage Sales Cloud functionalities like pipeline, stages, reporting, etc. for your Customer Success team. This will allow you to build dashboards which will be useful in tracking renewal rate, churn rate, monthly recurring revenue etc.Sales Cloud can automate workflows for recurring actions, such as contract renewals and management approvals, which can further provide insights that help in maximizing productivity and profitability.
You can automate recurring and repetitive tasks using Salesforce. Workflow speeds up the work by automating email responses, field updates, and task assignments. You don't want to contact your customers every time you need to renew their subscriptions, and neither the customers want the same. Also, remembering all the critical dates like Renewal date and Billing date is a headache. With Trigger and Workflows, you can create automation rules to automatically create and send out bills and email timely which makes things easy for you, as well as your customers.
Salesforceresolves cases faster with visibility of all cases and a record of every customer interaction — all on a streamlined dashboard. It streamlines the pipeline for better customer service. Every interaction with customers via phone, voicemail, email or anything else about a case appears in the case history.
CSM's can use Data Loader for the bulk import or export of data. They can use it to insert, update, delete, or export data into Salesforce so that your customers don't have to do it manually. This eliminates the chances of errors or issues like data loss, data duplicity or any invalid data.
CSM's can make informed decisions with real-time reports. Reports and Dashboards provide your team with deep insights of the customer and his business.
The report is a list of data generated based on the pre-defined criteria. It has access to Salesforce data and can be used to display in terms of rows and columns whereas a dashboard is the graphical representation of the data generated by reports. CSM's can create dashboards for each customer-facing and can view and analyze key data and trends across their customer base and get a better understanding of customer portfolio.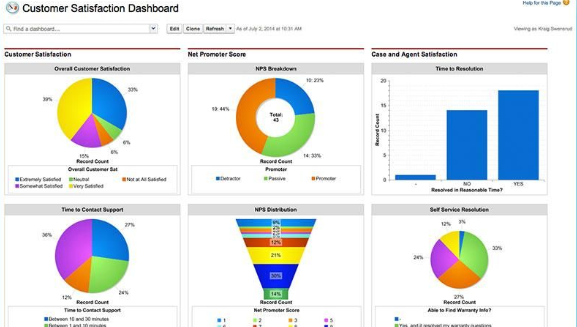 With Salesforce, you are able to get a 360-degree view of your customers along with each and every interaction you have had with them. It can capture all the activities so the entire team has visibility into the customer's account. You can capture all the information via "Log a Call" or "Log a Meeting" feature in Salesforce which is very useful in tracking the Activities. You can even set an Activity Reminder as well to remind you about any activity scheduled.
Quick Wrap-up:
Customer Success Managers can use Salesforce to help customers achieve business value faster and work more effectively than ever before. By leveraging Salesforce, CSM's can stay close to the customers and help them achieve the desired outcome and that too with a positive experience. In a nutshell, Salesforce plays an instrumental role in taking organizational success a notch higher by helping their customer achieve success in their endeavors.
About Girikon
As providers of high-quality
Salesforce consulting services
, Girikon houses a team of experienced and certified Salesforce professionals including Salesforce consultants, and developers.
About Author
Amit carries a rich experience of more than 9 years working as a Salesforce business analyst/customer success manager. His excellent analytical, and logical reasoning abilities makes him extremely desirable for successful management of projects, client success management and operations management.
Share this post on: