Why You Need Salesforce Services for Your Business
April 18, 2018

Nirupama Shree
For any sized business, one should have a robust and efficient CRM (Customer Relationship Management) software solution to increase the productiveness and revenue of your organization.
Now the question comes to one's mind is which CRM to choose for your business? Selecting an ideal CRM is utmost crucial for your business as with the help of this tool you will manage your leads, customer services, sales, etc.
According to the Gartner Report, the Customer Relationship Management Software Market Grew 12.3 % which means people all around the world are relying on CRM for managing their business.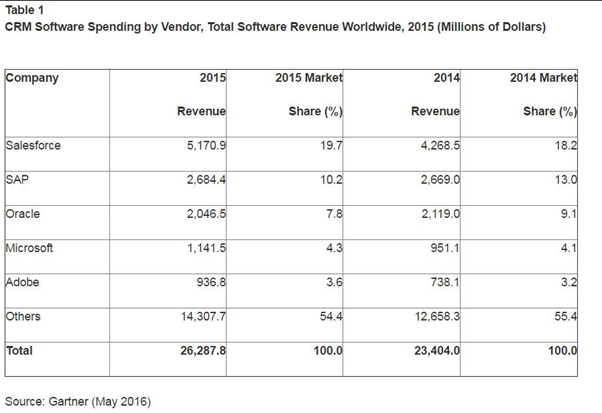 There are abundant of CRMs available to serve your business needs but one should be careful while selecting the right CRM for your business.
Before proceeding towards an ideal CRM, let us understand few important parameters which you should check before selecting a CRM.
Available for any (small/mid/large/) scale business or Non-Profit Organization.
Pricing
Features like lead to opportunity management, Reporting Management, Customer Service Management.
Automation of the CRM as per the need for Workflows, Approval, Flows, Triggers, etc.
Report Generation, Sales forecast, etc.
Integration with Social Media Platform, Email Marketing Platform.
Ability to implement a new feature on CRM by installing 3rd party tool or by customization.
Overall security of data.
Compatibility with all devices and available as an app for the mobile user.
As per the recent article "Best CRM Software 2018", it is understood that Salesforce.com's Customer Relationship Management (CRM) service is the best CRM for your business and it matches with the above mentioned parameters as well.
In this article, I will be explaining to you why you need Salesforce Services for your business and how it will help you in the long run.
Talking about the Salesforce CRM, it helps in the lead to opportunity management, getting reports by taking various parameters into consideration. If you need any particular feature in your CRM which can enhance the process, then you can also install a third-party app from the AppExchange.
You can also take help from Salesforce Consultants who can assist you in guiding and developing a complex solution in Force App Cloud.com. These solutions make your CRM even powerful.
Salesforce also offers Community Cloud with the help of which you can connect and collaborate with your clients, vendors, employees to form communities. You can handle articles, FAQs for your portal easily and your customer can find the solution to the general problems on your portal itself.
Your customers can also create cases from your portal (community) and that case can be assigned to the agents or the case can be escalated based on the workflow. With the help of Community Cloud, you can offer the best customer support services to your customers and boost up your sales.
Next we have Salesforce Marketing Cloud, with the help of which you can manage various email campaigns, Social Media Marketing, Advertising, B2B Marketing Automation for lead generation, product promotion on various social media platforms, and much more. You can shoot emails for different purposes and track their report.
It is always beneficial to have some forecast, logical recommendations with an explanation, about your business so that you can avoid taking the wrong decision which can affect your sales figure. Einstein Analytics does the same for your business by prediction. It analyses the data in the system and then gives you the recommendation for your business.
Now we have come to the end of this article, I hope this will help enlighten you about the Salesforce Services and how it can benefit your business.
In case you need help in any of the above Salesforce Consulting Services, then you can surely contact us. We are a Salesforce Consulting Partner and offering out-of-the-box solutions.
About Author
Nirupama Shree
Nirupama Shree is currently working as a Business Analyst at Girikon, managing projects related to Salesforce. She has work experience in requirement gathering, blogging, maintaining client relations and has experience in technologies like Salesforce, Magento, Opencart. In her leisure time, she loves listening to music.
Share this post on: