Looking to Migrate to Salesforce Lightning? Here's What You Need to Consider
Today, technology is evolving at a very high pace and Salesforce continues to be at the forefront of such a change. Over the years, this robust and innovative CRM system has been constantly introducing cutting-edge features, which has re-shaped the way businesses across the globe interact with their clients. Recently, Salesforce introduced Lightning Experience (LEX) – its newest user interface that offers a cleaner and visually appealing interface, easy navigation and many more benefits over its 'Classic' counterpart.
While it might be tempting to leap to the Lightning platform right away, it's equally important to understand the benefits and limitations that the shift might bring to your organization. It's in your interest to ask yourself the following questions before making a shift.
Are You Ready for the Change?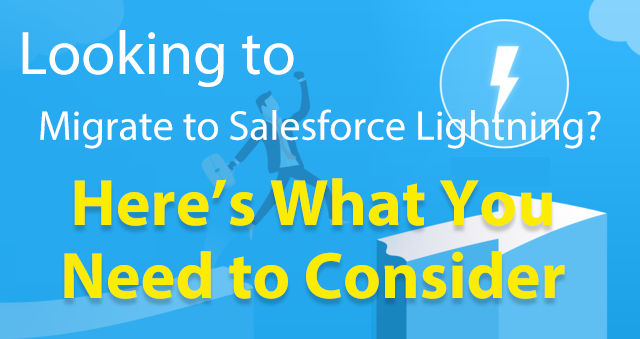 Users need to understand the pros and cons of adopting or making a shift to a new system. While some users might be apprehensive of making a shift as they might get accustomed to the look, feel, flow and form of Salesforce classic, those who are planning to leap should have in place a change management strategy. This will help them deal with the roadblocks that might arise during the transition and will provide them with a structured approach for supporting the shift from Classic to LEX (Lightning Experience). In fact, the sole objective of change management is to make the transition to LEX as smooth, easy and transparent as possible. Businesses can also seek the support and guidance of a Salesforce implementation partner to ensure a smooth transition.
Will LEX fulfill the needs of my Users? 
It is important to ensure that the new system can fulfill the needs of every user group. This would require every user to have the necessary tools required to stay put with the new system (LEX) rather than getting back to Salesforce classic. While LEX allows customization of several features such as content density, page layout, new connectivity tools and accessibility for different user groups, there are some features that aren't supported in LEX. It is therefore important to run 'Lightning Readiness' check to analyze what all are LEX ready and what all aren't. The 'Lightning readiness check' should be followed by the discovery phase to understand how users are utilizing the tools available to them. The discovery phase should include a key step i.e. the technology assessment stage, which is usually conducted by a Salesforce expert who can use LEX for a couple of weeks and create an existing state of the business processes that too for multiple user groups. This will further help in developing key functionality plans, technology requirements, and wish lists, which can be used to build UX design for ensuring LEX usability. Ultimately, the design for each user group can be created. This will allow users to visually view the benefits or the change that will affect them. 
How exactly will you track LEX ROI?
It is important to educate your stakeholders regarding the benefits and the potential LEX offers in generating significant ROI for organizations. According to a survey conducted in 2017, organizations leveraging LEX have enjoyed a 15 to 20 percent growth in ROI. In fact, there are several ways businesses can utilize LEX to achieve their objectives. 
The Bottom Line: 
In a nutshell, we can infer that though the Lightning experience offers an array of better features over its classic counterpart, it's important to weigh in the pros and cons of the new system before making a shift. By gathering apt answers to the aforementioned questions, businesses can expect a significant rise in ROI, ensure seamless adoption and eventually enjoy increased productivity from users. If you are still on the fence, you must get in touch with an experienced Salesforce consultant who can aptly guide you throughout your Salesforce journey. 
About Author
Jaya is a content marketing professional with more than 10 years of experience into technical writing, creative content writing and digital content development. Her decade long experience lends her the ability to create content for multiple channels and across different technology verticals.
Share this post on: