Google Analytics 360 & Salesforce Marketing Cloud Integration
April 2, 2019

Saharsh Singh Dadhwal

Google Analytics 360 & Salesforce Marketing Cloud Integration
Finally, Analytics from website & data generated from campaigns in Salesforce via Emails, Text & Social channels collaborated seamlessly and bridging the gap of Marketing & Sales through GA 360 suite integration with Salesforce Marketing Cloud.
Helping you invest in the right campaign
As a member of CXO team in any enterprise, it is always a pressure situation for the CXO's to justify their investment on a particular campaign. Most enterprises use Google Analytics 360 suite (GA 360) to track marketing campaigns and Salesforce to track their Sales operations. As a CXO you know how much each campaign is costing you but you have no idea of which campaign or advertisement is generating the maximum revenue. At times you continue investing in channels which don't give a great % return.
With GA connector within your IT landscape provides you the capability to:
Know which campaign is profitable
Know which is draining your time & money
Increase profit without increasing spend
With my recent B2B implementation, we identified multiple channels through which a client is made aware about the products & services – these are Social Media, Emails, Paid & Organic searches, Telemarketing, display advertising and not limited to physical direct mails.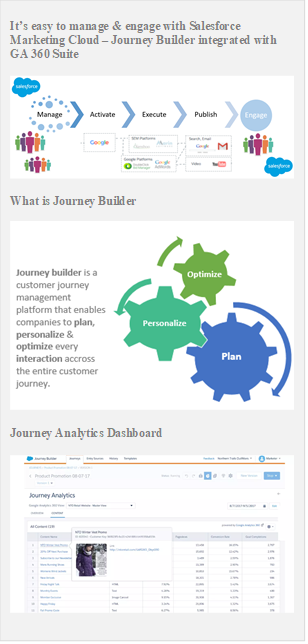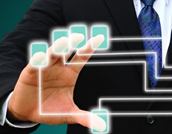 Measure your campaigns ROI
A typical B2B conversion cycle is somewhere around 3-9 months, the customer uses various marketing touch points through the journey before it gets converted. To analyze how each of the channels impact conversions, most of the enterprises use the last interaction attribution model which means giving the full credit to the last touch point before the conversion. That means the contribution of all the other touch points is neglected & the money spent on those touch points are considered wasted. The reason why enterprises consider last click or first click attribution model is because they think it's difficult to bring all of the data in one place. There are many other attribution models which we will cover in detail in our subsequent articles.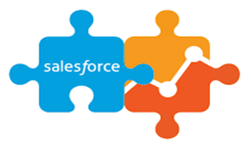 Getting the most from the Integration
Providing marketeers an enhance customer experience by personalizing their experiences on their Website, advertisements & their email channels.
Until now marketeers find it difficult to understand & decide what should be the next best interaction with their customers. With Marketing Cloud, we can create journeys through which emails are sent out to a specific audience based on attribution created in GA 360 using leads & opportunity data received from Sales Cloud. When a user reads the email & actions on the email they land on a website page.
Emails also carry journey campaign information as parameters which are then passed on to Google Analytics to analyze & determine the traffic source & which channel is generating most of the revenue.
With Salesforce Marketing Cloud integrated with GA 360 suite, marketers will have a new set of metrics which will help them to take appropriate decisions for investing into right campaigns & channels.
Prerequisites – As an enterprise you will require Google Analytics 360 & Salesforce Marketing Cloud. Since the Journey Builder is dependent on the edition you hold, you might need to add this product at an extra cost. You can contact your Salesforce support representative to discuss the pricing involved in enabling GA 360 & Salesforce integration for your enterprise. Enterprises can now view all the interactions & its impact in a single view on Marketing Cloud analytics dashboard.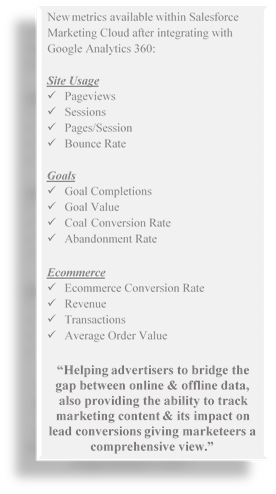 "Salesforce is thrilled to partner with Google to work hand-in-hand to integrate Salesforce Marketing Cloud with @googleanalytics 360. This is the best of both worlds!
https://t.co/YsGbJsfK0
. MARC BENIOFF (@BENIOFF) MAY 21″
"Whether your enterprise is large or small, you need to market your products in an efficient way. Do not loose out to your competitors by investing in a channel that is not reaping the fruits of your investment. This integration will help you get the value for each dollar you spend on your marketing campaigns and bridge the gap between the marketing & sales team. As a Salesforce Marketing Cloud Partner and with our experienced Salesforce Marketing Cloud Consultants, Girikon will ensure your strategy is always in line with your business objectives."
Girikon is an IT consulting and development company, based out of Phoenix, Arizona with development centre in Noida, India and offices in Melbourne, Australia.
Our Global network of offices in USA, India and Australia, allows Girikon to quickly respond to customer's requirements with a view to effectively delivering a quality product and service. Girikon has a team of experienced and certified consultants Salesforce Architects, Developers, Consultants, and Administrators. Our MEAN Stack, Atlassian APP, Microsoft Dynamics CRM, Mobile APPs, JAVA, PHP, ASP, .NET and AI consultants and professionals also provide services which are second to none.
Our customers and services are many and varied from Fortune 500 companies implementing large E-Business programs to small-medium enterprises implementing Billing Systems.
Specialties – Salesforce.com, Cloud Services, Node.js, Mobile Apps, Atlassian, Custom Software Development, Big Data Analysis, DevOps Automation, SaaS Implementation & Integration, Quality Engineering, Program management & PMO, E-commerce, Salesforce Consulting, Salesforce Implementation, Salesforce Development, Salesforce Integration, Salesforce Migration, Salesforce Consulting Partner, Salesforce Consultants, and Force.com
Girikon's team of dynamic, seasoned and qualified professionals have a vast experience in IT across various business areas, Software/ Product development, design, testing, maintenance and resourcing / staffing options.
We believe in developing scalable & simplified solution for our clients.
In order to ensure your strategy aligns with your business goals – contact us at sales@girikon.com
About Author
Saharsh Singh Dadhwal
Saharsh drives & manages large scale CRM consulting & implementations for multiple industries not limited to BFSI, Real Estate, Healthcare, Education, Event Mgmt from large enterprise to SME. He holds an experience in CRM | ERP | Custom applications | EHR/EMR product research & management.He was part of team responsible for business transformation using technology and worked on multiple technologies.He has been associated with brands responsinble for worlds biggest CRM implementation like SBI, Max Life Insurance, UHG, Salesforce, CRMnext. When he is not consulting you will find him singing, gardening in his balcony and cooking.
Share this post on: