Service Cloud and its Importance in the Customer Service Segment
June 30, 2020

Nishtha Mangla
Service Cloud refers to a 'Customer Service' platform i.e. unique, powerful, and robust customer support application that can be used to track, manage, and resolve customer queries. The platform is built on SaaS (Software as a service) model and can be accessed from anywhere.
Why do we need a Service cloud?

Customer satisfaction is the most important thing for every company and if your company deeply cares about the customer, then Service Cloud should be your go-to platform for all customer service needs. Whenever a customer raises a concern or issue regarding any service of the product to the company, these tickets are received by a service agent following, in which they deal with all the issues efficiently.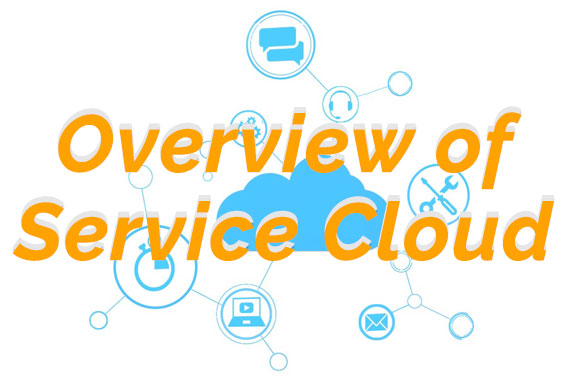 Below are some quick points that will clear all your doubts about the service cloud:
24*7 Support: Service cloud provides 24*7 supports to its customers. Customers can raise a query at any point of time that too without any hassle.
Personalized support: The service cloud provides one to one communication between the customer support team member and the customer. Because of this direct conversation, the customer can easily convey their problem and get resolutions while ensuring that the service agent has all the necessary details required to resolve the query raised by the customer.+
Maximize agent productivity: Service cloud can be accessed from anywhere and due to this feature, agents can provide their support from any part of the world through any medium. They are not restricted to work in any particular environment. This helps in increasing the productivity of the agents.
Social Customer Services: The tools for a customer support team to handle cases and support their customers from social channels like Twitter, Facebook, and website. Customers can post their queries over these social platforms and will get the resolution for the same.
Security: Data is a very essential part of the organizations and thus data security and confidentiality hold a lot of significance for organizations. With Service Cloud, organizations can ensure the safety and security of their data.
Features of Service Cloud:
Listed below are some key features of Service Cloud:
Multi-Channel Support: The service cloud provides so much flexibility over a communication medium to its customers. They can email their problem; they can do live chat, make a call, or even can post their problem over social media platforms. Similarly, for resolution, they can choose any medium according to their convenience to discuss with the agent.
Service Console: A service console is a salesforce application for users to work in a fast-paced environment. The console is a dashboard-like interface, where all the information such as customer profile, case histories, etc are complied at a single place. It saves response time for agents as they can quickly find, update, or create records.
Knowledgebase: It is like an online library of service and support information. This feature allows agents to quickly find the solution, and provide them to customers.
Community: Community is a platform made by a group of people to share information and help customers. It is a self-service portal for customers where they can find everything they need, from knowledge articles to user forms and even customer support.
Case Management: Whenever a customer raises a query it can be treated as a case in Salesforce. Case management is necessary for agents to track, manage, and resolve those cases efficiently.
How to access Service Cloud?
Here is how you can access Service Cloud:
Login to login.salesforce.com
Create a Salesforce Console App
Choose its display
Customize push notifications
Grant users Console access- Sc Users
Services provided by Service Cloud:
In-Service Cloud, case tracking or management and knowledge bases is one of the essential features or services.

Case Management in Salesforce:
Taking care of the customers is the most important task and the case management functionality helps in properly managing this aspect. Whenever a customer raises a query in Salesforce it is treated as Case. Case management deals with customer service, providing support and resolutions to their queries.
Case management helps users to record, track, and solve issues of customers. Cases can be created and resolved through multi-channel and it can be further classified into three types:
Email to Case: Email to Case helps you to create a case when an email sent by your company's email address such as abc@learning.com. These generated cases will be displayed in 'Email related lists'.
Web to Case: Web to Case allows users to submit Cases directly to the Customer support group by filling a simple web form. Users need to fill some required information in the form i.e. name and Email address.
Escalation and Auto response: Case escalation rules are used to reassign and notify the individuals if a case isn't closed within a specific time. Also, you can configure auto-respond to the cases.
Use case on Case creation:
Tim is having an issue with his laptop and he needs to get it fixed as soon as possible as he has a meeting in the next 1 hr. Let's see how he raises a case regarding the problem.
Step 1: Login into Salesforce and select 'Service' app
Step 2: Click on the 'Cases' tab.
Step 3: Click on the 'New' button
Step 4: Fill all the required information on the 'Case' window
Conclusion:
In every industry customer satisfaction is very important. Every customer looks for a quick resolution of their issues, and if companies can satisfy the customer with their effective and prompt services, then it can tread a path of success and growth for organizations. Service Cloud allows organizations to collaborate with their customers on a single platform while providing effective solutions to their problems. Service Cloud helps organizations to provide better customer support by providing numerous types of features and services. With the help of these features, service agents can help customers in a better way and can provide them a superior customer service experience.
About Girikon:
As a reputed name in the
Salesforce consulting
and
implementation
space, Girikon offers high-quality services to clients across the globe. Over the years, the company has expanded its presence across the globe by establishing offices across UK, Australia, USA and India.
About Author
Nishtha is an ISTQB certified tester. She has sound knowledge on different types of testing mainly in the Manual, Web application, desktop application, database and Salesforce Testing. In her leisure time, she likes to sketch, read novels, and amazing facts on different topics.
Share this post on: