In History, we read about time segregated by the birth of Christ. The era before him was BC (Before Christ) and that after is referred to as AD (Anno Domini is a Latin word meaning "in the year of the Lord"). So, we all stand in 2017 AD as we go through this blog.
By now, you must be thinking we all know this; so what's the point in discussing here. But, read on…I would now like to lead you to another segregation of time, BC and DC which are Before Cloud and During Cloud!
OK! Does this matter? Is it really big enough to elicit such a nomenclature? Aren't these the next questions racing through your mind?
We all know the advent of the Cloud has disrupted not only the ways in which IT works but also the ways in which businesses function. Shown below is a summarized view of where and how businesses have needed to shift focus and attention since the shift to the Cloud.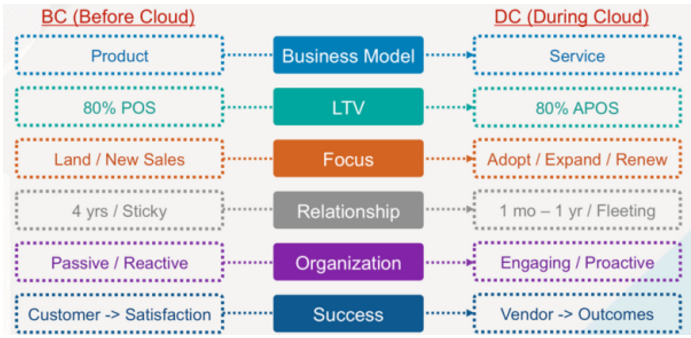 Now, if we understand the volume and complexity of this shift, we will agree that this is certainly big enough! The economy of "Customer Experience" is here and the vendor has to own the burden of delivering quantifiable business outcomes. Being able to manage change well is no longer enough! Adaptability is the in-thing. Adaptable is what organizations have to become and Adaptability is what leaders need to somehow embed into the organization culture!!
Achieve Customer Delight and ensure your own success in this DC times:
Dig deep to decide which customer data will provide actionable insights into whether or not the clients are on the right track towards their expected business outcomes
Bring in an organization wide culture of Collaboration. Collaboration in the key, No more departmental/though-process silos please!
Raise awareness on holistic customer journeys till the last rung in the organization
Be flexible towards Technology – Use what serves better. They are only worth what we are able to extract out of them
Measure outcomes – Not just your own, but of your customers'. Prove ROI on their engagement with you and secure the renewal